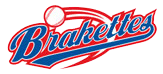 Our own 18u Ridgefield Rebels team will be taking on the Brakettes this Friday night! Come support our Rebels and watch some great softball!
WHEN: Friday, June 15th at 6:30 PM
WHERE: Frank DeLuca Field, 1000 Main Street, Stratford, CT, 06615
WHO?: Who are the Brakettes? The Stratford Brakettes are one of the most successful amateur women's fast pitch softball teams. Since their inception in 1947 they have won 35 national championships. A goal of the team's community outreach program is to inspire, encourage and educate young players, and they provide a great opportunity for youth leagues to meet the team and attend a game.
Let's Play Two!
We also have an RGS Night at the Brakettes scheduled for 7pm Saturday, June 30th at the same location. Players can arrive by 6:00 PM for this event to view warm-ups, go on the field, and get a photo taken with the team. Players will be randomly selected to throw out the first pitch and some of the girls will be randomly selected to serve as bat girls throughout the game.
Players are admitted free if they wear their uniform and all coaches are also admitted free as guests of the Brakettes (we will submit a list of all coaches and assistant coaches prior to the game). Parents and family members can buy tickets at the gate. Ticket prices range from $5 to $8 depending on the seat. There is a food stand at the stadium.
See you in Stratford!